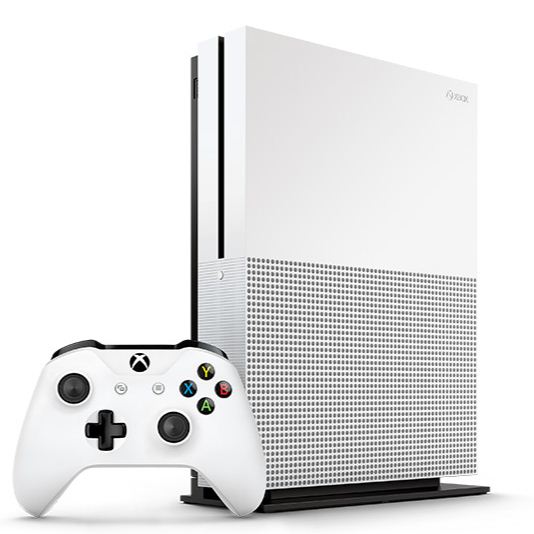 The new and upgraded console from Microsoft, Xbox One S has arrived. Xbox One S is a powerful gaming console which is 40 percent smaller than the previous Xbox one console. Xbox lovers can now experience the world of gaming in 4k ultra HD resolution. Xbox one s comes in a stylish white color design which is the main highlight in looks.
The new Xbox one s Controller is white in color which supports other Bluetooth devices and has a 3.5mm headphone jack in the front. Xbox One S console have a storage capacity up to 2TB and have internal power supply. Some of the 4k ultra HD games announced for the xbox one s is Gears of War 4, Forza Horizon 3 and Scalebound. Xbox One S fans are waiting for the announcement of more 4k supported games.The Xbox One S can be placed vertically by using a stand which comes with the 2TB version. Xbox One S was released in USA on August 2nd 2016 with a price of $399 for the 2TB, $349 for the 1TB and $299 for the 500GB model. Check out the complete specifications, price and release date of Microsoft Xbox one s below.
Microsoft Xbox One S Specifications
Check out the specifications below
Hard Drive Storage: Up to 2TB
Resolution: Up to 4K Ultra HD
Dimensions: 16.9 x 11.5 x 4.5 inches
HDR support: Yes
Blu-ray equipped: Yes, up to 4K
Cortana equipped: Yes
Operating system: Windows 10
Compatible with Kinect: Yes (with an adapter)
Bluetooth controller: Yes
Built-in power brick: Yes
USB 3.0 ports: 3
Dedicated Kinect port: No
Base price: $299 (500GB), with games
Microsoft Xbox One S Price in India
The 2 TB Xbox one s model was released in USA with a price of $399. The prices in India has not yet announced.
Xbox one s 2 TB Model Price in India – Rs 27000.
Xbox one s 1 TB Model Price in India – RS 23500.
Xbox one s 500 GB Model Price in India – RS 20000.
Microsoft Xbox One S Release Date in India
Right now Microsoft has no plans to release the new Xbox One S console in India. The company has not revealed any information regarding the release date or launch of Xbox One S in India.