Virender Sehwag officially confirmed his retirement from International cricket with a statement in Twitter on 20th October 2016. Sehwag is just an amazing player who entertains us in all forms of cricket. He is the only batsman in India to score a triple century in Test cricket.
While taking his career records, Sehwag scored a total of 8586 runs (104 matches) in Test cricket and 8273 runs in ODI cricket which includes 15 centuries in it. Sehwag's highest score of 219 runs in ODI cricket is always remembered. While taking his bowling figures, Sehwag took 96 wickets in ODI and 40 wickets in Test matches. Let's check out more details about Sehwag's retirement below.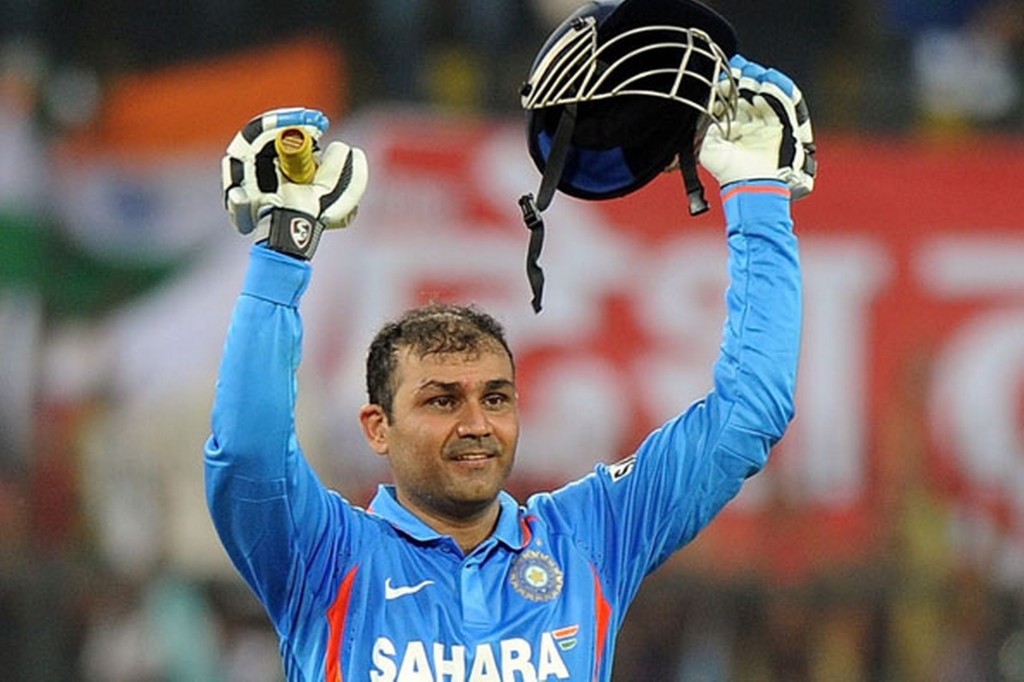 Virender Sehwag's official retirement confirmation in Twitter
"I hereby retire from all forms of international cricket and from the Indian Premier League. A statement will follow".
"To paraphrase Mark Twain, the report of my retirement yesterday was exaggerated! However, I have always done what I felt was right and not what conformists thought to be right," said Sehwag in his statement, adding, "God has been kind and I have done what I wanted to do – on the field and in my life. And I had decided some time back that I will retire on my 37th birthday. So today, while I spend my day with my family, I hereby announce my retirement from all forms of International Cricket and from the Indian Premier League." (Firstpost report)
Sehwag is always a special player for India. Sehwag is one of the best openers in Indian cricket team as he always gives a good opening wicket partnership for India all time in all forms of cricket. Sehwag also captained for India in 12 ODIS and four test matches. Sehwag was a part of Indian world cup team in 2003 (reached finals), 2011 (India lifted the World cup) and 2007 ICC World Twenty20 (India lifted the first ICC World cup T20).
Virender Sehwag profile
Full name: Virender Sehwag
Date of Birth:0 October 1978 (age 37)
Native place: Najafgarh, Delhi, India
Nickname: Viru, Nawab of Najafgarh
Batting:Right handed batsman
Bowling: Right arm off break bowler
Famous: Opening batsman, attacking batsman
Virender Sehwag career Debuts
Test debut: 3rd November 2001 vs South Africa
ODI debut: 1st April 1999 vs Pakistan
T20I debut: 1st December 2006 vs South Africa
Virender Sehwag career records
| | Matches | Innings | N.O. | Runs | HS | Avg | S/R | 100s | 50s | 4s | 6s | Ct |
| --- | --- | --- | --- | --- | --- | --- | --- | --- | --- | --- | --- | --- |
| ODI | 251 | 245 | 9 | 8,273 | 219 | 35.06 | 104.34 | 15 | 38 | 1132 | 135 | 93 |
| Tests | 104 | 180 | 6 | 8,586 | 319 | 49.34 | 82.23 | 23 | 32 | 1233 | 91 | 91 |
| Twenty20 | 19 | 18 | – | 394 | 68 | 21.89 | 145.39 | – | 2 | 43 | 16 | 2 |
| IPL | 104 | 104 | 5 | 2728 | 122 | 27.56 | 155.44 | 2 | 16 | 334 | 106 | 34 |