PTC Punjabi Singing reality show Voice of Punjab over the years has brought many singing talents to the Punjabi Music Industry. The show is going on for many years and singers like Nimrat Khaira, Gurnaam Bullar, Neha Sharma, Ranjeet Bawa, Kaur B, Sonali Dogra and many more have come up with reputation from this platform. The time has come when Season 8 Grand Finale of the show is proceeding very fast.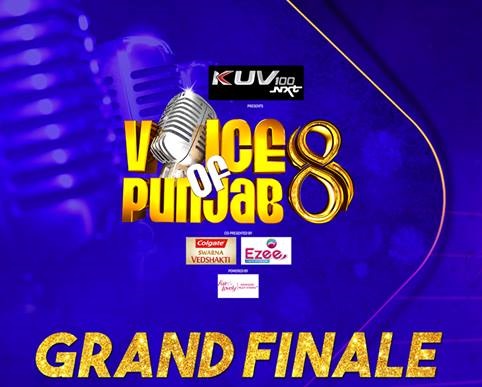 A lot of participants was involved and they entered the competition through several audition rounds. Then the best was chosen for the entire season and now for the Grand finale, six participants are left who will burn the stage with the power in their voice. The official broadcaster is none other than PTC Punjabi which is the best Punjabi Channel.
Winners of Voice of Punjab 8
Title Winner of Voice of Punjab 8 – Gurkirat Kaur
First Runner-up/Second Place of Voice of Punjab 8 – Gurmanter Singh
Second Runner-up/Third Place of Voice of Punjab 8 – Surtal Kular
Date and Time of the Grand Finale
The Grand Finale will take place on 23rd February and the show will be live telecast from 6:45 pm onwards.
One may get the Entry passes if one can win the entry passes or the Merchandise signed by the Punjabi singing stars.
Venue
The Grand Finale will take place at 97 Acres Scheme, Ranjit Avenue, Amritsar, Punjab.
Judges
The judges of the show are Roshan Prince, Sachin Ahuja well known as Melody King in the world of Punjabi Music and Miss Pooja.
Finalists of Voice of Punjab 8
The Voice of Punjab Season 8 Finalists are Gurmanter Singh, Rajdeep Singh, Surtal Kular, Kapil, Anwar Ali and Gurkirat Kaur. It would be obvious that the viewers will have their own favorites among these six finalists. It would be kind if they receive proper support from the viewers in the spot or over television channels.
Host
The Grand Finale will be hosted by Satinder Satti who is not only pretty but her spicy Punjabi dialogues will mesmerize the viewers throughout the show. She will surely add more glamour to the show.
Performers
The event will not be comprised of the singing of finalists but there will also be some very good performers who will fill all gaps with their stunning performances. One of them is Lakhwinder Wadali who will fill all hearts with his songs and voice filled with melody. There is another stunning performer named Gurnam Bhullar who will make the audiences happy with her theeth style songs. The night will just not be a Grand finale but it will be a night which will be filled with fun, glamour and entertainment. Sunanda Sharma and Sukhshinder Shinda will be the other star performers in the event. One must track and follow the facebook page of the event for more updates which is coming up every hour till the show goes live.