Kerala State Film Awards is presented by Kerala State Chalachitra Academy which recognizes the talents from Malayalam film industry. 45th Kerala State Film Awards 2014 is announced on 10th August 2015 by Thiruvanchoor Radhakrishnan, State Minister for Forest Transport, Sports, Environment, and Cinema.
We have the full winners list of Kerala State Awards 2014 here. Nivin Pauly grabbed the best actor award for the films "1983" and "Bangalore Days". Sudev Nair also won the best actor award for the film"My Life Partner". Best Actress award goes to Nazriya Nazim for "Bangalore Days" and "Om Shanti Osaana". Sanal Kumar Sashidharan is the best director for the film "Oraal Pokkam. So let's check out more details about the winners of 2014 Kerala State Awards below.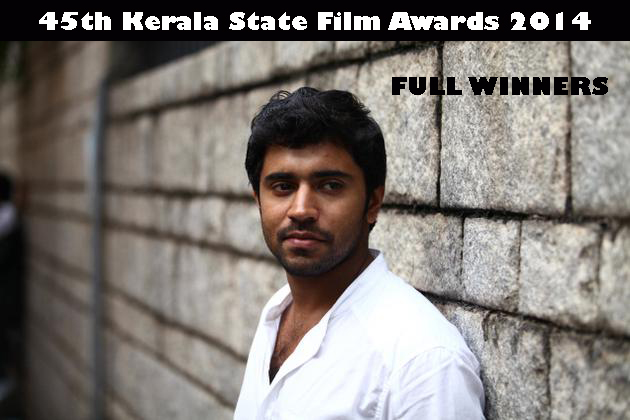 Kerala State Film Awards 2014 winners
So let's check out complete winners of 45th Kerala State Film Awards 2014 here.
45th Kerala State Film Awards 2014 results:
Best Actor: Nivin Pauly , Sudev Nair
Best Actress: Nazriya Nazim
Best Director: Sanal Kumar Sashidharan
Best Film: Ottaal
Popular Movie: Om Shanthi Oshana (Jude Antony Joseph , Alwin Antony)
Best Second Film: My Life Partner
Best Debutant Director: Abrid Shine
Best Cinematography: Amal Neerad
Best Music: Ramesh Narayanan
Best Lyrics: O S Unni Krishnan ( Ithra Pakalinode )
Best Male Singer: Dr KJ Yesudas
Best Female Singer: Shreya Ghoshal
Best Story: Sidharth Shiva (Ain )
Best Script: Anjali Menon
Best Back Ground Music: Bijibal
Best Art Direction: Indu lal
Best Second Actor: Anoop Menon
Best Second Actress: Sethu Lakshmy
Best Child Artists: Master Adwaith , Anna Fathima
Best Editing: Lijo Paul (Om Shanthi Oshana )
Best Sound Design: Thapas Nair
Jury Special Mention: Indrans (acting)
Jury Special Award: Prathap Pothan (acting)
Best Dubbing Artist: Harishanth Sharan , Vimmy Mariyam
Best Make Up:Manoj
Best Costumes: Sameera Sanish
Best Colourist: Ranganath
Best Choreography: Sajna Najad
Best Children Movie: Ankuram
Congratulations to Nivin Pauly and Nazriya Nazim for winning best actor and actress award for 45th Kerala State Film Awards 2014.